We All Live in a Watershed
Most rain falls onto land before draining to a river, stream, lake, pond., or wetland. A watershed is an area of land that channels rain into a common body of water, such as the Des Plaines River. Because all land is a part of a watershed, everyone in the world lives in a watershed. It is all just a matter of scale, we could focus on the area of land that drains to a particular stream or wetland which could be a very small, local area or we can look at all of the land that drains into the Mississippi River.  Local streams, ponds, and wetlands as well as our neighborhoods, streets, and nearby farmland are all part of a watershed. 
You can think of a watershed like a funnel. It collects rainwater and empties it into a certain spot—in our example, a river or stream. It is easy to understand the funnel concept of a watershed when a river lies between two mountain ranges. Rain slides down the mountains and into the river. While we don't have mountains in northeastern Illinois, we do have a gradually sloping landscape that funnels rainwater into our rivers and streams at lower elevations. 
As rain flows across land, it picks up pollutants on the landscape along the way and carries them into storm drains and detention basins that connect to waterways. Therefore, what we do on the land impacts the health of nearby bodies of water. Learn more about common pollutants and how you can help keep our rivers clean.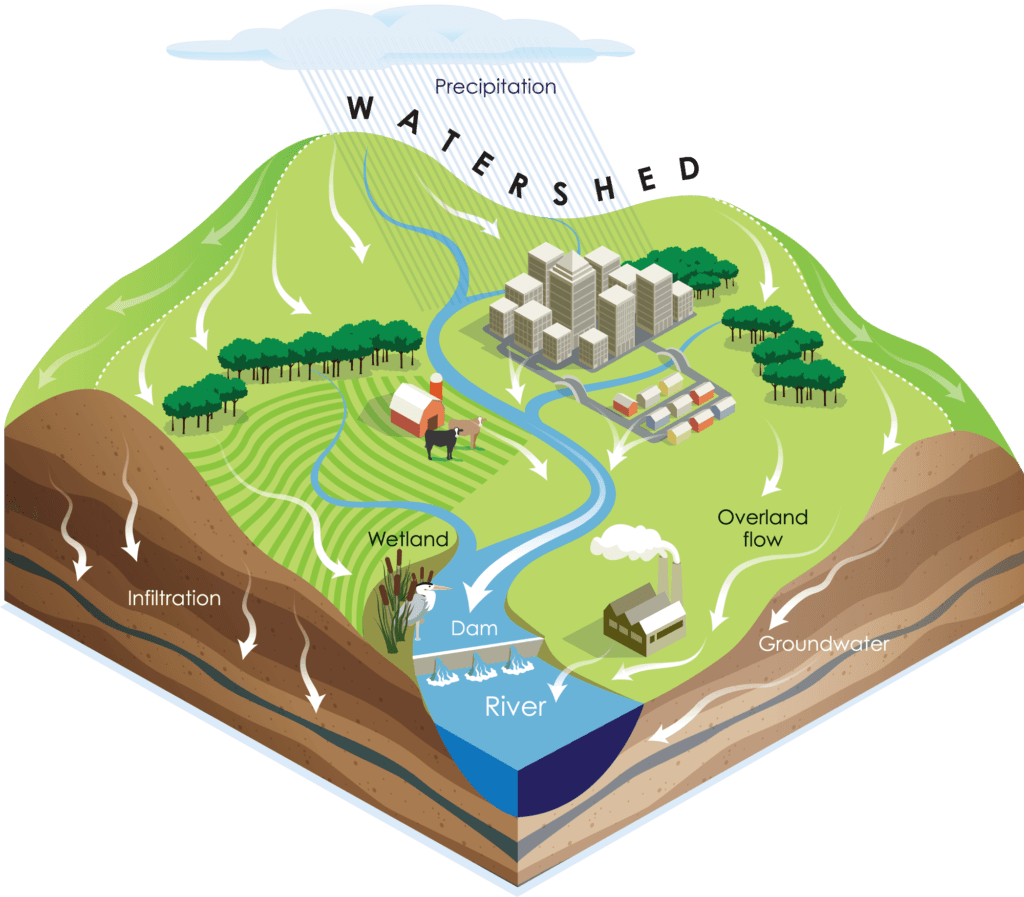 Most of Illinois is part of the Mississippi River watershed, the largest watershed in the United States and the fourth largest in the world. The Mississippi River watershed is made up of smaller sub-watersheds that drain to bigger waterways and then eventually the Mississippi River.  
Our watershed groups are focused on the health of the Lower DuPage River and Lower Des Plaines River watersheds. The DuPage River is actually part of the Lower Des Plaines River Watershed. The DuPage River drains into the Lower Des Plaines River in Channahon, Illinois. The Des Plaines River then joins with the Kankakee River to form the Illinois River, which is a tributary of the Mississippi River. 
10 Things You Can Do to Protect Our Watershed
We can all do our part to protect water quality in our community.