No one wants to deal with a flooded basement or maneuver around submerged streets after a storm. Unfortunately, the risk of flooding increases with suburban development—native vegetation, soil, and landscape depressions that store stormwater are replaced with impermeable surfaces such as roads, parking lots, and rooftops. Rainwater easily runs off these surfaces, putting more strain on our waterways and stormwater infrastructure.
Detention ponds, also called detention basins or retention ponds, are important structures that help prevent flooding. A detention pond is a man-made area that collects and releases stormwater run-off into local waterways. While man-made detention ponds are effective in reducing flooding, they do not treat and clean water as successfully as wetlands. A deteriorating detention pond often releases murky, green water into local waterways, effecting the health of our watershed and our community.
A native buffer, or strip of native vegetation, can be added around the shoreline to restore a deteriorating detention pond. Some signs of a deteriorating detention pond:
Eroded shoreline
Increased animal droppings
Murky water
Algae bloom
5 benefits of adding a native buffer to a detention pond
1. Reduces shoreline erosion
Shoreline erosion can cause nutrients such as nitrogen and phosphorus, which are naturally found in soil, to be introduced into a detention pond and lead to algae bloom. A native buffer, made up of native plants with deep root systems, reduces the risk of shoreline erosion by stabilizing the soil.
2. Minimizes water contamination
Native buffers also reduce the amount of chemicals, such as herbicides and pesticides, from entering the detention basin (and eventually downstream bodies of water) through stormwater run-off. Native plants, well adapted to local environmental conditions, do not require the use of herbicides or pesticides.
3. Lowers maintenance requirements
Having a native buffer around a detention pond also decreases the amount of mowing required. Grasses should be allowed to remain long around native vegetation to create a dense buffer, reducing the amount of chemical run-off into the detention basin.
4. Discourages unwanted wildlife and animal waste contamination
Having a native buffer serves as a barrier to discourage pesky wildlife, such as geese, from lingering around the detention basin. The buffer also works to reduce the amount of animal waste that is introduced into the detention basin. Animal waste contains bacteria and nutrients which will run-off into ponds and deteriorate the water conditions.
5. Adds aesthetic value to the neighborhood
A native buffer creates a beautiful aesthetic environment for the community while adding the beneficial factors of keeping the waterways healthier. A beautiful and well-maintained detention pond can also increase property values.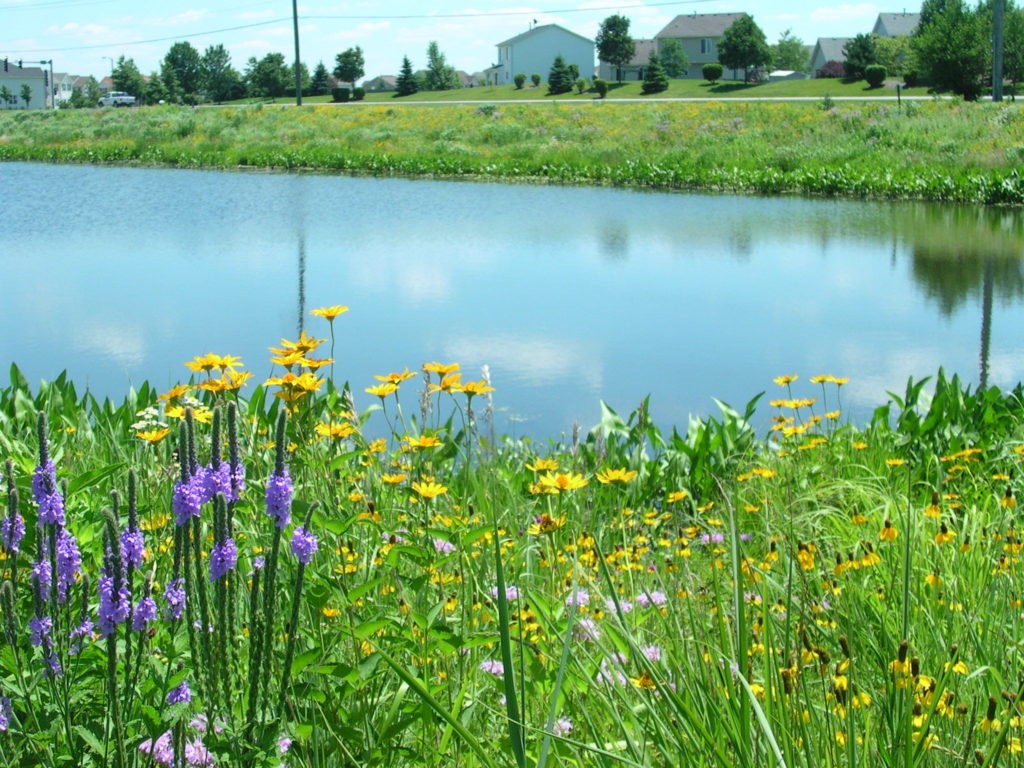 It is also important to note that some native plants are better suited for certain environmental conditions, such as having deeper roots to gather water and stabilize the soil. Ensure that the environmental conditions will support the native vegetation by checking factors such as sunlight, water, soil quality and climate.