In a project we're calling "Garden Refresh," we transformed the native garden beds outside one of our office buildings at The Conservation Foundation in Naperville. As the new plants grow in, we're envisioning thriving native flowers, grasses and shrubs that provide colorful blooms throughout the year as well as important food and habitat for birds, butterflies, and other wildlife. 
Why You Should Go Native
Native plants are the way to go if you are looking to make your home an environmentally friendly landscape. By gardening with plants that are adapted to the Illinois environment, you harmonize your yard with the rhythms of our local ecosystem. Native plants with deep roots stabilize and rebuild our soil. They also infiltrate stormwater down into the ground, filtering out pollutants so clean water recharges groundwater sources. Even more, their flowers, fruits, and foliage are crucial food for birds, bees, and butterflies.
Ready to go native? We encourage you to start small and take it one step at a time. Start by adding a few native flowers to your existing landscaping. Or maybe plant a native tree. With each new native addition, you're creating a more robust, sustainable environment right at home.
The Garden Refresh Design
The first step of creating a native plant garden is to plan it out. The Conservation Foundation staff Jan Roehll and Nancy Cinatl worked together to select native plants and create a design for the Garden Refresh project at McDonald Farm. To design a thriving native garden, you have to consider several factors such as soil type, sun exposure, and what looks best.
Our front left bed is our sunniest spot and has medium-dry soil. We decided on a mixture of prairie and savannah plants: prairie dropseed for a front border, New Jersey tea for a back border and a mixture of orange-flowered butterfly milkweed and purple coneflower intermingled with bright spots of magenta from poppy mallow flowers.
These are all summer blooming plants. So, for spring interest, we planted shooting stars between the dropseed which emerge in late spring. In this bed, there's also a short path for access to the rain barrel attached to the downspout at the corner of the house.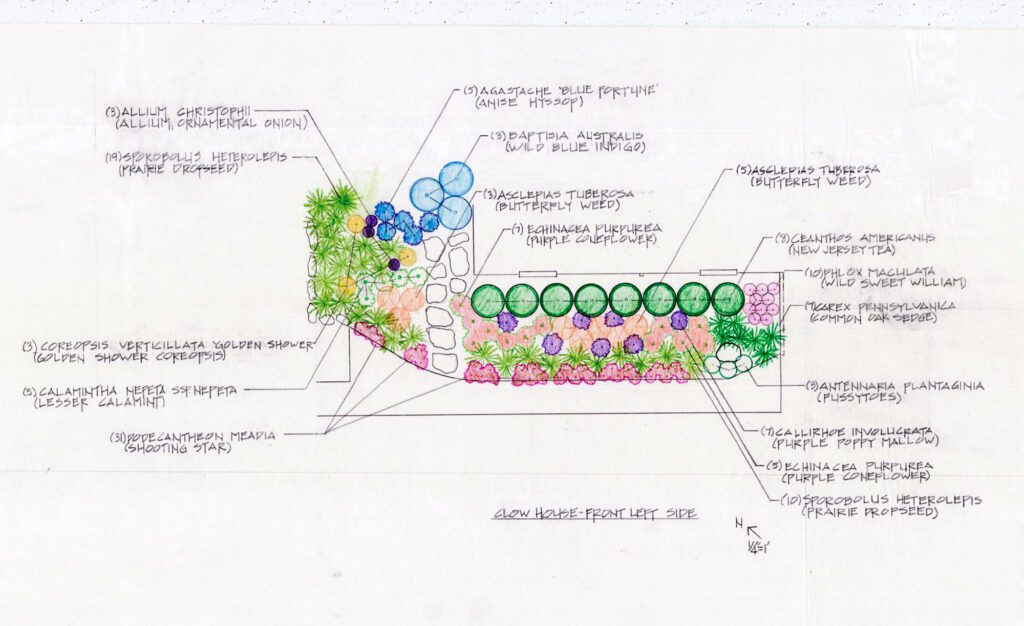 The smaller bed to the right of the front door is dappled with shade from an elm tree. For this area, we chose plants that can survive in partial shade like New England aster and Proud Berry coralberry while including some of the more shade-tolerant varieties from the left side for continuity.
Around the corner of the Clow House, the ground slopes downward to a large elm tree about 20 feet away. This side gets little direct sunlight. Therefore, this garden bed calls for shade-loving plants.
The previous bed was narrow and ran along the foundation. Jan and Nancy decided to expand the bed so that it encompasses the elm tree and then swoops back up to the other corner of the House.
Between the tree and the building, we planted understory trees and shrubs like serviceberry and oak-leafed hydrangea. Woodland plants, such as wild ginger, mayapples, ferns and sedges which keep their leaves all or most of the summer, are planted in masses as a groundcover. Interspersed, we planned for lovely pink wild geraniums, wild columbine and jack in the pulpit.
In the area with more sunlight, we added woodland asters and goldenrod. Their late-blooming flowers provide nectar for the migrating monarchs and other butterflies and bees that are still active in the fall. It's important to provide flowers throughout the spring, summer and fall for wildlife.
For an in-depth look at what native plants we chose and why, watch the webinar on the Garden Refresh project in which Jan and Nancy will guide you step by step through their design process.
Planting the New Garden
Before we could plant, we had to rip out failed landscape fabric and remove turfgrass from the new shade garden. This can be backbreaking work, so it is best to attack a small section at a time. If you're looking to expand a garden bed and kill off the turfgrass, it's best to cover the grass with a cardboard or newspaper and leaves the fall before you plan to plant.
Once we had a clean slate, we planted the serviceberry shrubs in the shade garden. In June, we planted the rest of the garden with the help our volunteers. After, we deeply mulched the garden with shredded hardwood mulch. This crucial addition will help keep back weeds and maintain moisture. We'll also have to water and weed the garden until the plants are established.
Not Everything Goes to Plan: Here's What Changed
Of course, nothing goes exactly to plan. This spring, the demand for native plants was greater than the supply, and we were unable to get our hands on some of the plants in the design. We're waiting for a few plants, like jack in the pulpit, wild columbine and purple poppy mallow, to become available so we can plant them later this season or next year.
For others, we substituted another plant in the same genus. For example, we planted anise hyssop (Agastache foeniculum) in place of Agastache 'Blue Fortune'. When making a substitution, make sure the color and form works for your design. Anise hyssop is taller than the Blue Fortune cultivar. Fortunately, this works for our garden plan since this plant is placed in the back of the bed. If it was in the front or center, this substitution might not work.
We also planted a few additional plants. The edge of the shade garden came out further than we originally planned. To fill the extra space, we added more clusters of zigzag goldenrod (Solidago flexicaulis) and New England aster (Symphyotrichum novae-angliae 'Purple Dome').
Because we can't plan for every possibility, it's important to stay flexible with your garden design. You may need to make substitutions or wait for plants to become available.
Tips for Designing Your Native Garden
Simply put, native plants have a huge environmental advantage over traditional, nonnative landscaping because native plants have evolved to be a part of our natural systems—revitalizing soil, recharging groundwater, and nourishing wildlife here in northeastern Illinois.
If you're looking to design your own native plant garden, here are a few tips to help you:
Measure your garden space and draw out it out on paper first
Consider the conditions of your garden. How much sun does it get? Is the soil dry or wet?
Chose plants adapted to those conditions
Visual contrast is key—select a variety of plant heights, flower bloom times and colors, and plant textures. Taller plants should go in the back of the garden, but be placed so they don't cover windows or doors.
Consider the full-grown size and form of the plants
Plant in groups that will help focus the eye
Help bees and butterflies by planting a variety of flowers with different bloom times
Through the Conservation@Home program, we offer guidance for creating at-home native plant gardens and wildlife habitat. Please contact Jan Roehll or Nancy Cinatl at 630-428-4500 with any inquiries about obtaining plants or to arrange a free consultation.
We hope this article inspires you to start adding native plants to your yard! Look for project updates on The Conservation Foundation's Facebook and Instagram as the plants grow in and we add new features to the garden.